Feb 23 2018
Yesterday will be remembered as a dark day in Missouri government history as scandal-ridden Eric Greitens, the Governor elected on a campaign of anti-corruption and ethics reform, has been indicted on a felony invasion of privacy charge stemming from his 2015 affair.  Greitens allegedly bound and photographed a woman while nude without her consent and threatened to use the photo as blackmail against her should she disclose the affair.  The incident took place at Greitens' home in St. Louis and after a Grand Jury investigation, enough evidence was presented to lead to the indictment and arrest.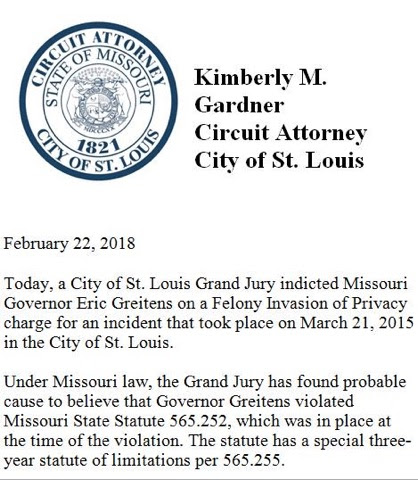 Greitens was scheduled to speak at the Republican Governor's Association this weekend and made a stop in St. Louis before leaving the state. He was arrested, handcuffed and booked like many other common criminals. Unlike most, he was released on his own recognizance and will await the next steps in the legal process.
The Missouri House of Representatives won't wait though. Republican leaders from both legislative chambers have called for an investigation that could serve as an early step to impeachment.  Greitens, who has always focused on his own self interest, says he will not resign.  His legal defense team (which just so happens to have hired a statehouse lobbyist earlier this week) has already made a truly disgusting claim in their motion to dismiss: in short, they claim the victim was going to engage in consensual sex with Greitens and therefore had no expectation of privacy from her images being used at a later date. Essentially, she was there so she should have known this could happen.  A critical part of this prosecution will be finding proof of the pictures taken by Greitens, something he has yet to outright deny since the story originally broke in January.
The Kansas City Star's updated story is available here: http://www.kansascity.com/news/politics-government/article201629499.html
While several members of the House and Senate have called for Greitens to step aside claiming he is no longer in a position to lead, the Missouri Republican Party made a puzzling if not funny statement Friday morning blaming George Soros for a political witchhunt and impossibly claiming Greitens to be a "law and order" Governor despite this indictment, being the only sitting Governor in Missouri history to be fined by the Missouri Ethics Commission, the active investigation into his use of the Confide mobile app that may be destroying state records, and a possible investigation to campaign finance violations surrounding the dark money nonprofit called A New Missouri.
This has been an absolute embarrassment for our State. Partisan politics aside, this is bad for all Missourians especially at a time in our nation when trust of government is so low. Just how much damage Eric Greitens will leave in his wake is yet to be understood. The seemingly perfect Republican candidate with a clear path to the White House is now fighting for his freedom from a term in a very different form of government housing.